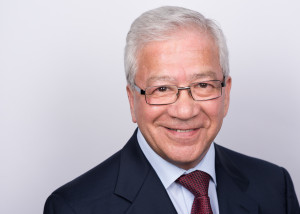 Phillip Khan-Panni FPSA is a polished wordsmith, Honorary Fellow and co-Founder of the Professional Speaking Association with a business background in advertising, sales management, newspaper publishing and direct marketing. Senior Copywriter at Readers's Digest for eight years, he is the CV Consultant at CV-Masterclass.com and expert in Getting Your Point Across.
He established a reputation for outstanding sales management as the most successful Classified Advertisement Manager of the Daily Express and Sunday Express, where he tripled revenue in his first year. With Montague Kent (management consultants) he held the company record for new business conversions (83 percent).
A proven master of succinct communication, with eight published books on communication skills, he has been:
Managing Director of Employment Publications Ltd, publishers of free distribution magazines
Owner of The London Entertainer, a weekly newspaper for tourists in London
CEO of PKP Communications Ltd, a Direct Marketing agency
Branch Chairman of the Chartered Institute of Marketing
Founder of the Professional Speaking Association (PSA)
As PKP Communicators he has coached business leaders, diplomats and sales teams in verbal communication skills since 1994, and in 20 countries. Initially he concentrated on helping advertising and PR agencies improve their presentations, but added Public Speaking and related topics when he started winning speech contests.
With his own East-West heritage, he found opportunities to work abroad on cross cultural issues, and co-wrote a book called Communicating Across Cultures. That was also added to the portfolio, along with Managing Media, which arose out of his own extensive experience in newspapers, magazines and occasionally in broadcasting as well.
In public speaking he has won numerous titles including 8 UK "golds", four international "golds", four international "silvers", two international "bronzes", and is the UK's only World Silver Medalist.
Get in touch
enquiries: +353 (0)89 611 7427
alternative: +44 (0)7768 696254
Skype (free): PhillipKP
email: phillip@phillipkhan-panni.com