Of course you present. If you are someone who tells customers and prospective customers about your products and services, you present. If you inform and motivate your staff, you present. If you speak to audiences in a business context, you present.
But are you doing all the right things to get your point across effectively? Get my free 1-Minute Checklist (below) and you'll soon know. 80% of business presentation fail because they don't do the right things.
In just two hours you will learn how to go from
Blank Page To First Draft In 15 Minutes
Read more here
If you'd like some help, get in touch. Let me help you tell the right story, and to do it convincingly. As a wordsmith I can help you use the right words to get what you want.
Meanwhile, here is a short introductory video explaining the essence of my approach to getting your point across when it really matters. There are five more that you can view for free by clicking through to a simple form.
How Your Audience Listens

Looking for public speaking advice that you can use right now? Here are 5 more short clips:
A Common Fallacy About Speaking
Why Facts Don't Persuade And What Does
The Four Steps In The Process Of Persuasion
How To Make The Perfect Elevator Speech
How To Find The Balance In Your Voice
To see them, simply click here.
As you know, good communication skills are ESSENTIAL in business, and in leadership.
That's where I can help you. And who am I to make such a claim? Author of eight books on communication skills, UK's only World Silver Medalist in Public Speaking, and Co-founder and Fellow of the Professional Speaking Association. For more, see the About page.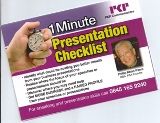 * For the 1-Minute Checklist, visit this page and sign up for our free newsletter which will give you free advice on more effective ways to get your point across.
If you'd prefer a printed version,
send your name, job title and snailmail address to mainspeaker@gmail.com